ARE YOU TIRED OF THE SAME OLD PAGE TITLES?
---

---
NEVER BE AT A LOSS FOR A PAGE TITLE AGAIN!
GUARANTEED!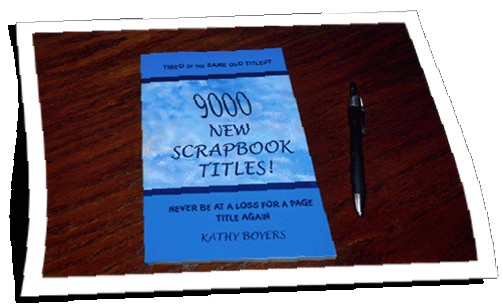 Do your scrapbook pages lack interesting page titles? With this huge compilation of new and fun scrapbook page titles, your pages will capture the imagination of your viewer instantly. Even though there are a few other scrapbook title idea books out there, this is the only one that GUARANTEES that you will never lack for a page title again. How do I GUARANTEE this? With the purchase of this book comes the opportunity to contact me (the author) if you need a title for a subject that is not covered in my book. That's right! Any subject that is not covered in this book that you need a page title for is fair game. Just contact me through the link on this website, and as soon as possible, I will e-mail you back with some title ideas for your page. But don't be surprised if I include those ideas in a future edition of my book.
REMEMBER, This is the only scrapbook title book that GUARANTEES That you will never be at a loss for a page title again.

JUST $15.95


(PLUS S & H)

OR

$5.00
For E-Book
---